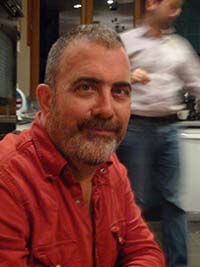 Composer, conductor and saxophonist, Paul Wehage is a complete musican. After his studies at the University of Texas and at the Paris Conservatory (1st prize in Saxophone in 1990), he began his career as a concertiste, performing throughout Europe, Asia, and North America. Several generations of composers have wirtten pieces specially for him, from Jean Françaix to Carson Cooman. His own catalog of nearly a hundred works includes chamber works, works for solo instruments, vocal works, choral works and orchestral music. Since 1997, he has directed Music Fabrik Music Publishing where he has amassed a catalog of over a thousand titles; He currently directs the Town Bands of the cities of Lagny-sur-Marne and Clichy-La-Garenne in France.
---
Compositeur, chef d'orchestre et saxophoniste, Paul Wehage est un musicien complet. Après des études à L'Université de Texas et au CNSM de Paris (1er prix en Saxophone en 1990), il a entammé de concertiste à travers l'Europe, l'Asie et l'Amérique de Nord. Plusieurs générations de composteurs ont écrits spécialement pour lui, de Jean Françaix à Carson Cooman. Parmi ses propres oeuvres, on peut citer des oeuvres de chambre, des pièces pour instrument seul, de la musique vocale et chorale et de la musique pour orchestre. Depuis 1997, il dirige Musik Fabrik Music Publishing, maison qui gére plus que mille titre. Il est directeur des orchestres d'harmonie des villes de Lagny-sur-Marne et Clichy-la-Garenne.
---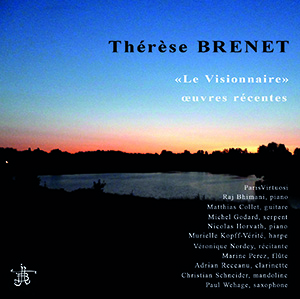 Thérèse Brenet : Le Visionnaire (2013 rel; CD recording)
Contains Le Visionnaire, Boustrophédon, Bestiaire, Avec des Élats d'or d'espérance, Dans L'Or Vibrant du Désert, Des Roses de Pæstum à la Rose des Vents de Dougga, Trois Préludes, De Bronze et de Lumière, Ophiucus, Quintette,
Paris Virtuosi; Raj Bhimani, piano; Matthias Collet, guitar, Aurélie Deschamps, viola; David Galoustov, violin; Michel Goddard, Serpent; Aya Hasegawa-Sabouret, violin; Nicolas Horvath, piano; Murielle Kopff-Verité, harp; Véronique Nordey, narrator; Marine Perez, flute; Adrian Receanu, clarinet; Christian Schneider, mandoline; Paul Wehage, saxophone; Eric Zorgniotti, violoncello

The complete notes are on this page
JTBProd (Catalogue #JTBProd004)

Available here :
Euro 9,95 (plus Euro 4,50 frais de port)
and from your local record dealer and all online sources where recordings are sold.
Select an online location for purchase:
---
Upcoming Concert
April 21, 2013 : J. S. Bach - Sonata in g minor, BWV 1029 (viola da gamba), arranged for tenor saxophone and organ: Hippolyte Escudié : Andante I, III and IV, from Six Andantes for alto saxophone and organ : Thérèse Brenet : A Thing of Beauty is a Joy Forever for alto saxophone and organ : Nicolas Wind : Autumnal Equinox, version for alto saxophone and organ ; Carson Cooman : The Prayer of Saint Ambroise, version for alto saxophone and organ ; Jean-Thierry Boisseau : World premiere of Les Larmes du dieu sans nom, for alto saxophone and organ ; Paul Wehage, saxophone and Françoise Gangloff, organ, L'Église Nôtre Dame des Ardents, Lagny-sur-Marne, France, 16h00